On Monday 29th June, we held our first public event at Manchester Metropolitan University to celebrate the launch of the Around the Toilet project, 'Toilet Talks: a speaker event on bodies, identities & design'. We were so pleased by the interest shown in the event and the project itself, both by those who attended on the day and others who weren't able to make it in person but sent their support. It's quite a challenge to cover the breadth of critical toilet insight provided by the speakers and other parties attending the event, but below is a small glimpse at some of the thoughts shared on the day, along with some reflections of my own.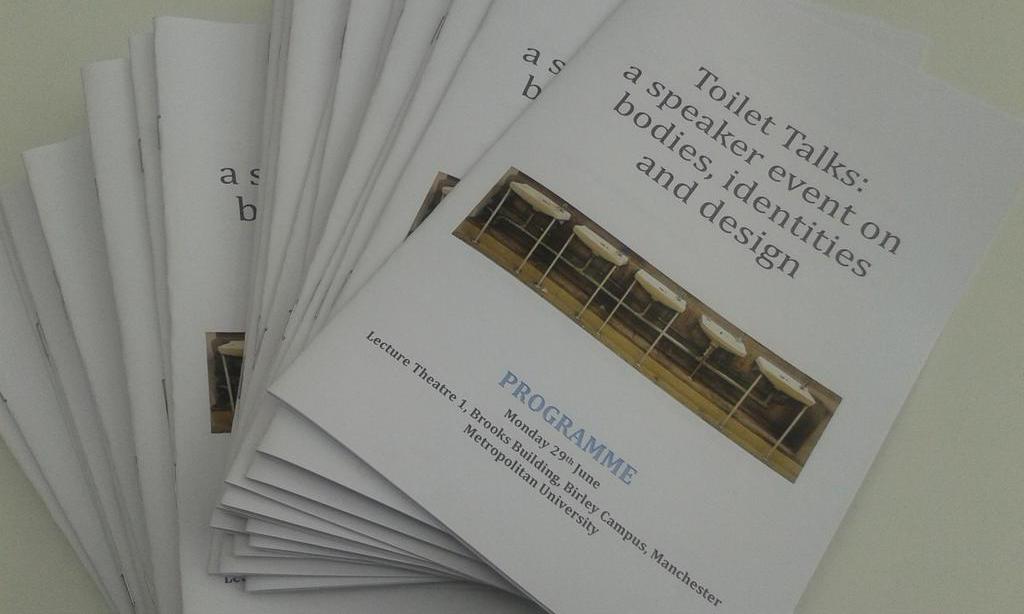 [Image: A photo of the 'Toilet Talks' programmes: white booklets with a photo of a row of sinks]
In her introduction to the event, Emily Cummings (University of Leeds) briefly considered the literary, art and social histories of the toilet. She alluded to the number of literary bathrooms – such as in James Joyce's Ulysses and Sarah Waters' The Paying Guests – which, despite their frequent portrayal, are not always noticed by critics. The importance, but persistent invisibility, of toilets was then situated alongside current struggles against austerity and the social effects of neoliberalism. Cummings encouraged us to reflect on the consequences of the privatisation of public spaces and the importance of defending and recognising the value in the commonplace parts of our cities such as our libraries, parks and public toilets, which can often be taken for granted.
This half-day event, however, took nothing of the toilet for granted. Key figures in the field of toilet research, as well as an exciting range of cross-disciplinary voices on the history, design and role of public (and private) toilets, delved into the meanings, politics and uses of the toilet. The venue itself was decorated with multi-coloured postcards, featuring the illustrated toilet experiences told by Around the Toilet participants at a storytelling workshop last month, and for four precious hours #cctoilettalk became a trending topic on Twitter in Sheffield (storified here).
The first speaker, Barbara Penner (Bartlett School of Architecture, UCL), discussed the high stakes of toilet talk, which she believes is always politically charged. When people argue about toilets, Penner observed, they're talking about the rights of certain social groups to occupy public space. In this sense, Penner points out that toilets can be a powerful indicator of social status. She drew not just on the current struggles for toilet access in the UK, but also on past movements and those outside of the West, such as the dispute that broke out in 1900 over a proposal to introduce a women's public toilet in Camden Town, London; the continuing battle for usable, sanitary toilets in the township of Khayelitsha, South Africa; and the Occupy Men's Toilet movement, started by Li Tingting in China after she became tired of waiting in long queues for women's toilets. Campaigns for equal access to toilets have been around, notes Penner, for as long as – if not longer than – the first public toilet.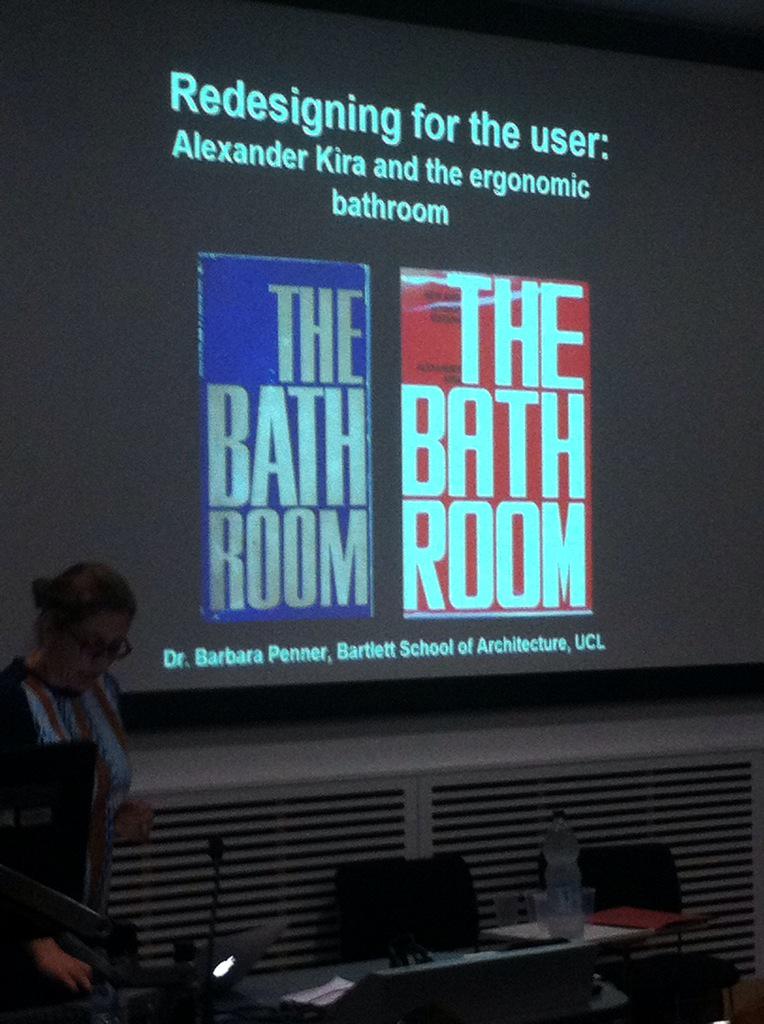 [Image: A photo of Penner's powerpoint presentation showing the two editions of Kira's 'The Bathroom'. Photo courtesy of Eve Stirling.]
Penner's main emphasis was on the heritage of Alexander Kira's (1967) widely-celebrated monograph, The Bathroom. Despite the huge media interest at the time, Penner notes that the book is particularly interesting for its failures – Kira's anticipated readership (primarily designers and architects) restricted his ability to suggest anything too radical, and there were many major omissions in his work. The second edition of the book (1976), however, appealed directly to the public and took greater interest in discussions of gender and disability. Barbara asked for us to follow Kira in recognising the importance of incorporating/considering the user and the body in the toilet design agenda.
Following Penner, Leo Care (University of Sheffield), provided a useful example of how these considerations can be incorporated into architectural education. Care discussed the projects undertaken by the Sheffield School of Architecture, including Live Works, an exciting multi-disciplinary collaboration between staff, students, graduates and alumni. Care argued that our aspiration to maximise accessibility should include accessing knowledge, an understanding of how things work, and an interaction between the built fabric of the environment and its users. Care called for an optimistic approach to toilet design, hoping for unification, rather division; social change, rather than conflict; and a place which can be used for inspiration and reflection, rather than solely functional needs.
[Image: A photo of Leo Care's powerpoint presentation which shows the Sheffield School of Architecture's reflections on gender netural toilets. Photo courtesy of Jen Slater.]
After a short break, Jess Bradley (Action for Trans* Health), one of the community partners of Around the Toilet, introduced the second part of the afternoon. Bradley pointed out the massively important day-to-day impact of toilet access for trans* and disabled people (amongst others); it's not just about the right to pee, but also the right to leave the house and get out and about. She argued that toilet politics are a microcosm of the gender structures and policing seen in society more broadly: who is recognised as what, and who gets to decide who's allowed into certain spaces? Bradley, like Penner, recognised just how long these conversations have been happening. Trans* people and feminists have been arguing for greater toilet access for years, she notes, but are very often dismissed. She believes that this is why projects like Around the Toilet are so important.
Morag Rose (University of Sheffield) explored the history of the public toilet in Manchester, from issues during the Industrial Revolution right up to the present day. Rose's talk was illustrated by a huge range of fascinating photographs she'd taken on her walking tours of the city, including a collection of toilet signage from around Manchester. Rose reflected on the way in which disabled people can often be de-sexualised and de-gendered by accessible toilets, in contrast to the hyper-gendered spaces intended for 'able-bodies'. She commented on the heavily gendered environment of public toilets, which aren't only subject to the policing and surveillance of 'acceptable' bodies and behavior (reflected on by many of the speakers throughout the day); but can also be spaces of comradery (e.g. chats in the queue and the passing of toilet paper under cubicle doors). Following Cummings' earlier resolutions, Rose also incites us to incorporate a critical response to austerity measures in our discussions of toilet politics. She refers to the ban on homeless activists using toilets in a Manchester public library, the huge number of public toilets getting closed throughout the city and the £80 fine if you're caught peeing in public. Rose advocates for social change, resistance to these measures, and more poo activism(!).
[Image: A photo of Morag Rose pointing at her powerpoint presentation, which shows a number of images of toilet signs indicating 'female' toilets. Photo courtesy of Jen Slater.]
The final speaker, Jo-Anne Bichard (Royal College of Art), provided an introduction to The Great British Public Toilet Map, a free interactive online resource launched at the end of last year which locates over 7,000 public toilets. Using an audit tool to assess toilet accessibility and usability, Bichard found that the most common access requirement which fails to be met by public toilets is a colostomy shelf (only 3% of audited accessible toilets had this feature). As she notes, shelves could be used for many other access needs as well, but a fear of these surfaces getting used by people taking drugs means that they're not incorporated into the designs of public toilets. The concern around toilet mis-use and criminal behaviour, Bichard points out, often means that toilets are much less accessible than they could be. She also adds that the range of impairments which necessitate certain toilet requirements are homogenised by the blue wheelchair/accessible symbol. Bichard notes that architects will often only consider the needs of wheelchair-users when creating an 'accessible' toilet, neglecting to incorporate a huge number of other access features which could make going to the toilet easier, or even possible, for many.
Lisa Procter (University of Sheffield) eloquently summarised the event, briefly reflecting on the hidden emotional geographies made present when we negotiate toilet spaces. She observed how issues of control and policing had been key themes of the day; especially the policing of space, of bodies, and of behaviour. In Procter's closing remarks, she reminds us of the need to de-standardise these designs, listen to the narratives of people using these spaces, and battle on towards a future of toilet transformation.
– Written by Charlotte Jones, Research Assistant on the Around the Toilet project